The Clerigos Tower is one of the paradigmatic architectural landmarks of Porto. The structure is, in fact, part of the Clerigos Church, representing its bell tower. The church proper was built between 1732 and 1750, but the construction works at the Clerigos Tower started no sooner than 1754, only to be completed in 1763. It was designed by Nicolau Nasoni, the Italian architect who left a strong artistic print on Porto since he also contributed, at least in part, to the design of sundry other landmarks of the city, such as the Porto Cathedral, the Church of Mercy and the very Clerigos Church.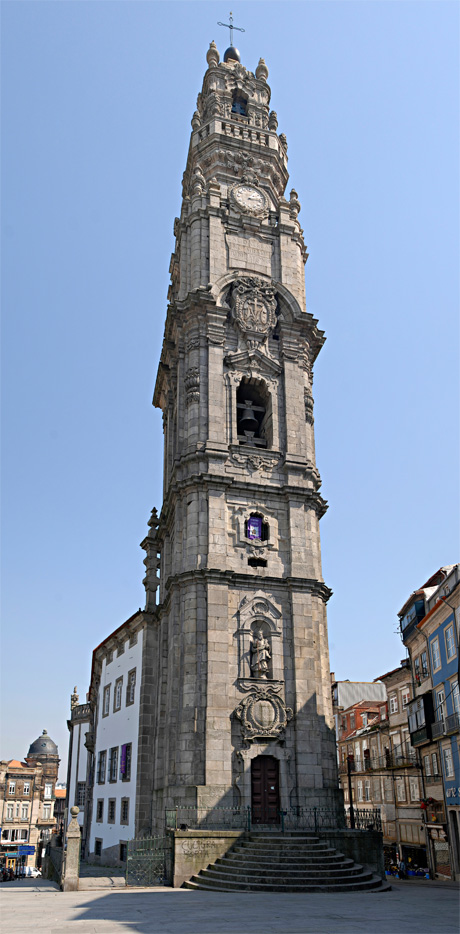 The Clerigos Tower of Porto
At the moment of its construction, the Clerigos Tower was the tallest building in Portugal. Thus, it amounts to some 76 meters in height, counting about 230 steps visitors can use in order to climb the six levels of the structure in order to get to the belfry and admire the view of Porto. In fact, the main tourist merit of the tower resides precisely in the panoramic views it provides over the city. However, visitors can also direct their attention to the architectural merits of the structure. It is an example of the Baroque style blending mild influences of the Tuscan bell towers that must have inspired Nasoni when he designed the Portuguese campanile.
Name:

Clerigos Tower (Torre dos Clerigos)

Address:

Rua de Sao Filipe de Nery, Porto, Portugal